Small but Powerful
Despite its small size and weight - the LT7802 is less than 280g (10oz) with the integrated laser and battery - this unit can cover many square meters of warehouse space and typically has over 100m of line of site range in an open area - depending on the power and design of your Access Point.
Simple Operation
Each scan and each time you press the Enter key, data is transmitted to the host. The host sends prompts back to the display and can even trigger voice message broadcasts at the same time.
Rugged Design Features
The 7802 terminal is a complete redesign from the ground up. Our tests show no damage after multiple 1.2 meter drops to concrete. We have implemented several design features to improve the toughness of the unit including:
Single Main PCB Design for High Reliability

70 Durometer Silicone Rubber Shock Bumper
Dust & Splash Resistant Design Features
Built-In Connector Cover
Micro USB Connector
Sealed Keypad design to prevent contamination from entering unit
Special Coated Keys for long life
Robust 1.5mm (.060") Thick, Scratch Resistant Polycarbonate LCD Overlay
Shock Mounted LCD Module
Battery Door and/or Handle are Mechanically Screwed Down
Rugged Replaceable Antenna
Tough Thick Wall Polycarbonate Plastic Housing
Black Color - Reduces Appearance of Dirt & Grime
Integrated Rugged Strap Eyelet
Ergonomic Design
The 7802 Series Terminals haves been designed with the ergonomics of the user in mind. starting with a high visibility 15 Line TFT Color QVGA LCD Display
plus a keypad layout that is designed to make scanning and keying easier. The small size and weight of the unit along with the curved shape make it very easy to hold and scan for long periods of time.
Our biggest ergonomic feature involves the addition of the optional H7000 handle. The H7000 handle makes scanning much easier for long term use and was one of our most requested features. The handle is sold on the unit when you purchase a LT7802H or LT7802B, or you can add it to your terminals at a later date if you want to by ordering the H7000 unit.
Integrated High Speed Laser Bar Code Scanner
The 7802 Series Terminals come with a high speed laser bar code scanner built in to the top of the unit. When you press the scan button, or the trigger on the handle, a laser beam scans at 100 times per second to pick up even poorly printed or damaged bar codes easily. The unit can scan very high density codes that have narrow bars as small as an incredible 2.5mil - .0025" (0.064mm) equivilent to 23cpi Code 39!
Bar code types supported include UPC/EAN, UCC-EAN 128, Code 39, Full ASCII Code 39, Code 128, GTIN-14, ITF-14, GS1-128, Codabar, MSI Plessey, GS1 DataBar (RSS-14), GS1 Omnidirectional & Stacked variants, Interleaved 2 of 5, Standard 2 of 5, Bookland EAN, Code 11, LabelCode4, LabelCode5, Storage Tek, and Code 93. The reader auto discriminates automatically.
Below is the chart of the typical range of reading. A 6 mil barcode is high density, the 10mil and 14mil are general purpose medium density, and the 40 mil and 100 mil are large low density codes.
Internal Li-ion Rechargeable Battery
We are using a industry standard NP-120 Li-ion battery in the unit which has a capacity of 1950mAh. In the event of failure this battery is field replaceable - via 2 screws on the door or handle. With our advanced battery charging you can have a full charge in 2-3 hours or less! Intelligent charging replenishes only the power used - no need to fully discharge batteries or wait through a full charging cycle for partially used batteries! With the LT7802H Handle unit you will get a second battery included in the handle which will effectively double the battery life of the unit.
Serial Compatibility
For users who have software written for the Worth Data 70/700/802/7000 Series RF Terminals using the PromptCOM / ActiveX component, running your application on the 7802 RF Terminal is as simple as re-compiling your program to talk to the new Application Server. The Windows ActiveX Application Server component is included at no extra charge with every 7802 Terminal - there is no development package to buy! The new Application Server talks exclusively to the 7802 series terminals. It will not work with the older generation 802 RF terminals, however if you run your older software and server on another computer you can still use the 802 terminals in the same location as the new 7802 RF Terminals.
Wi-Fi Network Support
The 7802 RF Terminal offers flexibility by allowing you to connect to an existing IEEE 802.11 wireless network - no additional wiring or equipment is needed. If you are already wired for 802.11, adding Terminals is a breeze! The 7802 has a Wi-Fi 802.11 b/g radio but it can talk to any access point with 802.11 b/g/n support. The 7802 Terminals are configurable to SSID, fixed or DHCP supplied IP Address, 64 bit or 128 bit encryption key, channel, and subnet mask. Support for WEP, WPA®, & WPA2® protocol security is also included.
Easiest to Implement
There is no programming on the terminal. All programming is on the host running the Application Server, in the ActiveX-compatible language of your choice!. There's only one program to write and maintain. No development package is necessary to buy. All you need is supplied with the purchase of an 7802 series RF Terminal. It's the perfect product for developers who wish to distribute systems to remote locations.
Controlling the RF Terminal
A user program does not run on the RF Terminal. There are three levels of host computer programming support provided for the RF Terminal:
Low Level Programming strings sent to the serial port is the most basic method of programming which applies to any language and any platform which can read and write to a serial port. (For Windows® users there is a free DLL provided to simplify the serial commands). Click here for details on Low Level Programming.

ActiveX support is also provided which provides the overall structure and all routines which when completed, result in a running application. It is compatible with Visual Basic, Visual C++®, Delphi, and most other Windows 32 bit development platforms. Click here to download the PromptCOM ActiveX pdf programming guide . You can also download the latest ActiveX for the 7000 here.

TCP/IP support allows the operation of terminals across a TCP/IP network connection. This configuration requires a "client" computer and a "server" computer. It is compatible with Visual Basic, Visual C++, Delphi, and most other 32-bit development platforms. Click here to download the "PrompNET TCP/IP Active X pdf programming guide.
Again, there is no programming necessary on the RF Terminal itself. All programming is on the host computer and can be in Visual Basic, Access, C, Basic, etc. Any platform and any language that can read/write to a serial port can be used.
For complete programming information visit our 7000 RF Programming Page.
KwikCount/RF for Excel
The 7802 RF Terminal includes our KwikCount RF add-in for Excel! This add-in gives you a simple, interactive program development tool using Excel; right out of the box - no programming knowledge needed! If you can use Excel, then you can use KwikCount RF to develop interactive real-time applications which use an Excel data base - including inventory, shipping, and receiving applications! Many applications include an import/export feature for Excel - allowing you to export your application's data, use KwikCount RF to update the data base on-line, and then import the updated data back into your application - all with NO programming knowledge required! This is perfect for inventory, shipping, receiving and even shelf price verification! Not only can you collect data, but you can display data from the Excel data base to help the user make decisions based on the data in the computer files.
Based on our popular KwikCount/EX for the TriCoder, our Kwikcount RF add in gives you a simple inventory application with no programming needed! If you can use Excel, then you can create a real-time inventory or data collection application for your 7802 RF Terminal. KwikCount RF ships for free with every 7802 RF Terminal!
Optional & Upgradeable Handle
The 7000 RF Terminal system offers an interchangeable battery door and handle system. You can either use the standard battery door, standard on the LT7802, or you can order the LT7802H with the handle installed. The handle is also available separately as an optional, field upgradeable handle to use in place of the battery door, so you can upgrade a LT7802 to use the H7000 handle at any time in the future. The H7000 handle is easy to install and includes a second battery in the handle to double the battery life.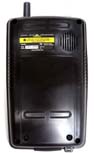 Portable Printer Support
The LT7802B RF Terminals are equipped with Bluetooth wireless technology and are capable of talking to any printer with Bluetooth wireless technology built in, allowing you to easily print product/price labels, barcode labels, receipts or other tags. Communication and printing to any
other brand of mobile printers that are equipped with Bluetooth wireless technology is very easy using the special menus built into our 7802 RF Terminals.
Using standard RF Terminal programming, the host computer simply sends printer command sequences to the RF Terminal. These printers greatly increase the functionality of the RF Terminal.
Voice Messages
In addition to the display prompts and error messages, the RF Terminal has the ability to audibly prompt and advise the operator with pre-recorded prompts and error advisories triggered by the host program. Voice messages are particularly helpful in poorly lit areas, cold environments, non-English speaking cultures, and keyless applications (faster scanning without having to refer to the display).
Solution Providers
Several companies provide application software exclusively for the Worth Data RF-Terminals and are listed below along with a brief description of the type of software solution they provide.
ACCU-DART from Executive Concepts is a real-time warehouse and inventory management solution, designed to integrate with

Sage Accpac ERP

and

Sage Pro.

Auction Flex from Sebae Data Solutions is a Live auction management software solution and control application.
Component Control from Quantum Control automates inventory, quoting, ordering and invoicing processes for the aviation industry.
The Bluetooth® word mark and logos are registered trademarks owned by Bluetooth SIG, Inc. and any use of such marks by Worth Data is under license. Other trademarks and trade names are those of their respective owners.
All prices shown are EXCLUSIVE of VAT. All of the product(s) are shipped from our USA Headquarters and VAT is not calculated or added at checkout - VAT may be added to your customs and import charges by our shipper FedEx. Please provide us with your VAT and EORI number during checkout to insure proper handling of these charges.